Life Is A Gift
Motherhood is an overwhelming feeling of joy, love, happiness, fear and anxiety all rolled into one swelling heart. It is the hardest job, but also the most rewarding one. As we approach Mother's Day weekend, I wanted to share a few thoughts on motherhood and an amazing project we just completed for one of our beloved clients, AutoNation.
I am a proud mother to four wonderful, grown children. Motherhood has challenged me to take things in stride, take myself WAY less seriously, truly prioritize what is important and above all, do it with a sense of humor.
A few months back, AutoNation looked to us to design, package and implement a Mother's Day promotion for their company store. The goal was to honor mothers and daughters while aligning with their Drive Pink initiative. "We consulted with Bagley about the relevance of Mother's Day and how it aligns with our Drive Pink initiative," said Paula Levenson, Director Purpose & Brand Marketing. "The end result was a beautifully designed t-shirt we were proud to promote in honor of mothers and daughters across America."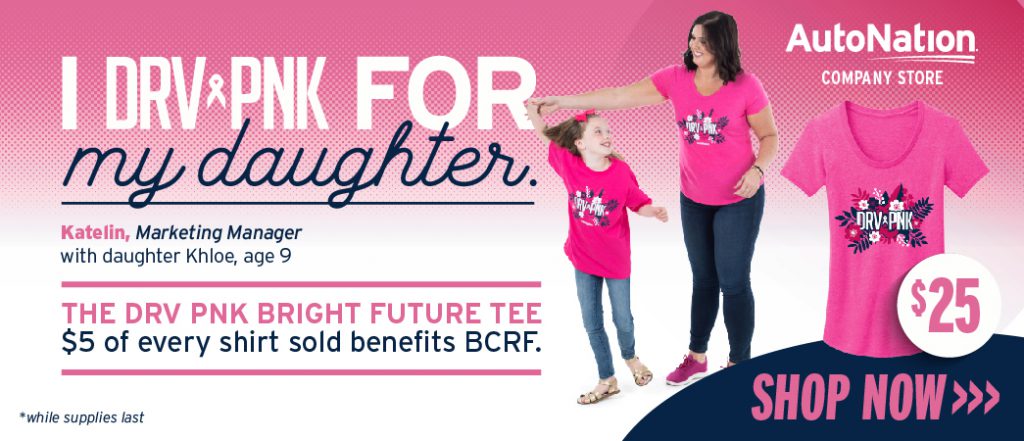 Drive Pink has been successfully publicized since 2015 and has become something Bagley has embraced as a supporting partner because it touches us personally. What is so unique about a company whose company store gives back to your choice of six charity partners with every purchase? Not only do they walk the walk; they talk the talk.
Caring is a fabric of their culture. Every October their associates from 300+ AutoNation locations unite on DRV PNK Across America Day, delivering thousands of comfort bags to patients battling cancer. They provide company-paid cancer insurance to every associate and their eligible dependents on their first day of employment. "A license to care," they call it. And every car they sell and service, helps raise awareness with a pink plate.
In 2021, there will be an estimated 2.1 million new cancer cases diagnosed in the U.S. While there have been significant advances in treatment, an actual cure remains elusive. To date, the campaign has raised over $26 million to fight cancer, and AutoNation continues to be driven to help find a cure. Please join us by sharing this link in support of DRV PNK. And if you feel so inclined, buy a shirt where $5 from each sold directly benefits the Breast Cancer Research Foundation: AutoNation Company Store
Every day is a gift. Live in the present. This Mother's Day celebrate the important moms in your life because they are impactful and irreplaceable. If you are a mom, celebrate yourself. Every day is a gift. Life is a gift. Take a break and celebrate all of the good around you. Happy Mother's Day.
Jill Stults, CEO